Summer is better together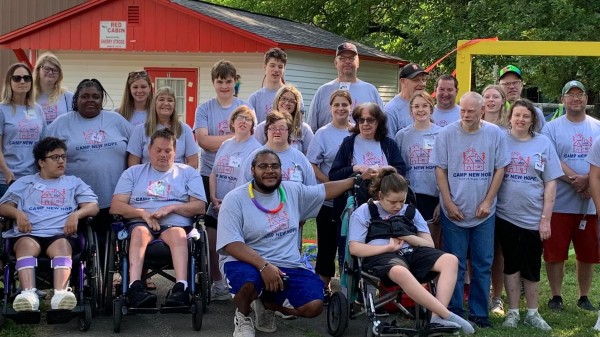 PLEASE FOLLOW US ON FACEBOOK FOR UP-TO-DATE INFORMATION.
Camp New Hope's Summer Camp Programs are Day and Overnight week-long summer camp experiences. Camp is available for people aged eight and older. Traditionally, Camp weeks have a special theme and are offered throughout June and July.
Camp is filled with arts, crafts, music, recreational activities, swimming, boating, sports, tournament games, and fishing, all adapted to individual campers' needs. Evenings conclude with group activities such as games, sing-a-longs, and stories. Each week of Camp ends with an award ceremony for campers. caregivers and families are invited to come for the ceremony.
Camp New Hope's Summer Camp lets Special Needs campers experience everyday activities in a fun and safe atmosphere.
Staff to Camper Ratio: Camp New Hope is unable to provide 1:1 camper assistance. The Staff to Camper ratios are:
Summer Daytime – 3 staff: 10 campers
Summer Nighttime – 2 staff: 7 campers.
Respite – 2 staff: 7 campers
If Campers are interested, please call the office at 217-895-2341 to get connected on Camp Doc to start registration.
| | | |
| --- | --- | --- |
| 2024 | Summer Camp Dates | TBD |
| | | |
| | | |
| | | |
| | | |
| | | |
| | | |
| | | |
Camp Fee Cancellation and Refund Policy
If a cancellation occurs 60 days prior to the beginning of the camper week, payments will be refunded, MINUS the deposit. After this time, no refund will be given except as listed below:
If cancellation occurs for a physician-documented medical reason all fees, minus the deposit will be refunded. Or the camper can choose a later week to attend camp if space is available.
If during a session it is advised to send a camper home for medical reasons, the remaining portion of the session will be refunded.
No refunds will be made for late arrivals or early departures.
In case of homesickness, dismissal, or voluntary withdrawal there is NO refund of any fees.